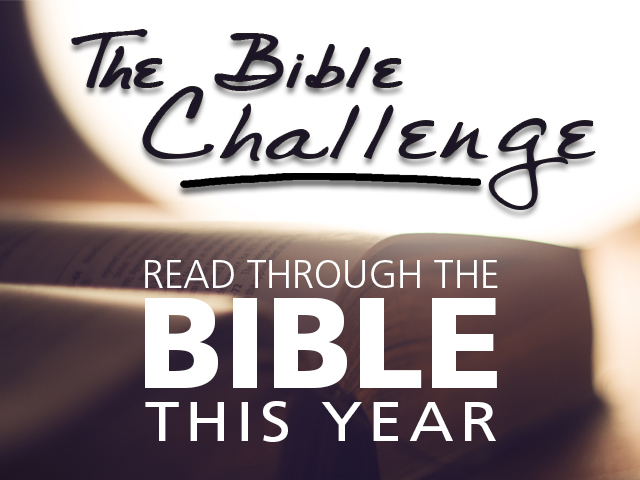 The Bible Challenge: Read Through The Bible This Year
In the Great Commission, Jesus gave us this command:

"All authority in heaven and on earth has been given to me. Go therefore and make disciples of all nations, baptizing them in the name of the Father and of the Son and of the Holy Spirit, teaching them to observe all that I have commanded you. And behold, I am with you always, to the end of the age."

Statistics show that most people professing faith in Jesus have never completely read their Bible. How can we teach what we do not know? Many people start reading the Bible but then become overwhelmed by the number of chapters (1,189) and verses (31,102) there are. What we don't realize is that we can read the Bible in a year by reading fewer than four chapters a day.

Join us this year as we work through this together. The link above connects to Bible Study Tools, which can help you chart your reading progress online during the year. This Bible reading schedule is thematic in nature. The goal is to make as many associations as possible between the different parts of Scripture while still reading individual books of the Bible from start to finish.

Tips on Reading the Bible Daily
Make a commitment to read every day. Share your commitment with someone who will pray for you and help hold you accountable. Find a time during the week when you can meet with others to discuss what you are reading.
Set aside a specific time each day. Set your schedule and then stick to it. Mornings are great, but feel free to use any time that works consistently for you.
If you get off track, start with the current day's reading. We are reading the Bible for the sake of learning, not simply to accomplish the next reading. Say a short prayer to God before you begin, asking the Holy Spirit to give you wisdom and understanding, then be refreshed by the words you read!
We will grow closer together as a body as we study God's Word together. Join us as we commit ourselves to reading God's Word.
Read details on the plan.
Download the Daily Guide